To this day...
of all the many, many diverse hikes that I have done...
this hike is
the most
adventurous and challenging that I have conquered.
Kuli 'ou 'ou Valley.
With the kids finally back in school, Michele and I decided we'd keep up the Wednesday Summer Hiking tradition and try out a new trail. A friend of ours had recently done the Kuli 'ou 'ou Ridge Trail and the pictures...the views... were something that we
had
to see. So I went online, found directions and
a great blog on the hike
that I thought would be all I needed. It was pretty straight forward.
Ha! Were we ever in for a surprise.
So as you can see above, the trail head is at the end of a cul-de-sac in a Kuli 'ou 'ou neighborhood. But, you cannot park in the empty cul-de-sac. So I had to find a place on the street. Looking toward the ocean, you can't even see my truck anymore parked (in the shade, yaya!) on the right side of the road. We were climbing before we even started. =/
The path pictured here is just an access road to the trail head and the water district building thingy.
Right away, I fell in love with this hike.
The trails immediately captured my inner fairy princess and we trotted along thinking.. easy peasy.
I had the list of trail cues in my head... look for the post that says "valley" that way and "ridge" this way. We'd turn toward the ridge trail. Then there would be a picnic gazebo half way and ocean views here and there.. we couldn't wait. And somewhere on the trail there would be a boot brush staked into the ground so we could be good little hikers and make sure any molds or spores stayed in the forest.
So we were walking along...
...and I see the boot brush that I saw on the blog. Headed in the right direction..right? Surrrre. Continued straight down the trail...
And we see
Beauty in Creation
.
click the picture for larger view
We were in, what I kept calling, a broken, dried up forest.
There were fallen trees everywhere.
Everything looked dehydrated and thirsty.
But beautiful at the same time.
Walking along, I imagined what it must have been like to walk in this valley as a native Hawaiian hundreds of years ago.
This place was currently very thick and dense and tangled.
What it must have been like then!!
I couldn't stop snapping photos at almost every step I took.
This really is a largely-reduced sample of the shots I took.
The trail hugged rock faces, slinked under overgrown canopies...
Sometimes it was barely visible because of the tall ponytail weeds.
Fabulous!
I'm thinking, "This is awesome! Nobody had said anything about any of this on their blogs.
And shouldn't we be seeing that post telling us to go to the ridge trail soon?"
There was so much to see.
Way too much for my wanna-be photog eye to take in. ...Things I found interesting, that others might not. Ha! But you get to see anyways.
See the ponytail weed (tall grassy) covered trail on the top right? You can barely see the ground.
I felt like a tiger in the grass.
I finally, after an entire summer of hiking, remembered to wear my hiking boots.
That tree, with the exposed roots, was growing at the edge of, what we thought-at the time, was a stream bed. Love it!
click 2 C larger view
We started seeing all sorts of boulders and rocks along the trail.
Gorgeous.
And then the trail started getting thicker...and a little less visible.
You can see Michele in the photo on the left....barely.
Finally I saw some flowers!
...at least, I think they're flowers. Ha! Now, after doing some quick research at
wildlifeofhawaii.com
, I found out that those weird pine cone shaped things are called Shampoo Ginger.
click pic to view larger
As our trail continues... remember, there is a dried up creek all along the left side of us.
And we see this!! --->
Yah!
It's a dried up waterfall!
My guesstimate is that the drop is about 10 or 20 feet.
As you can see, it's still a teeny bit wet... and at the top there is a tiny pool that I'm guessing has just been catching rain water.
I am amazed. I am soooo stinking excited.
Yeeeeeee.
Imagine what it must have looked like when the water was flowing!
I climbed through a lot of non-trail stuff to get closer views.
omgeeeee
After that...
we kept going, but the trail was starting to merge with the stream.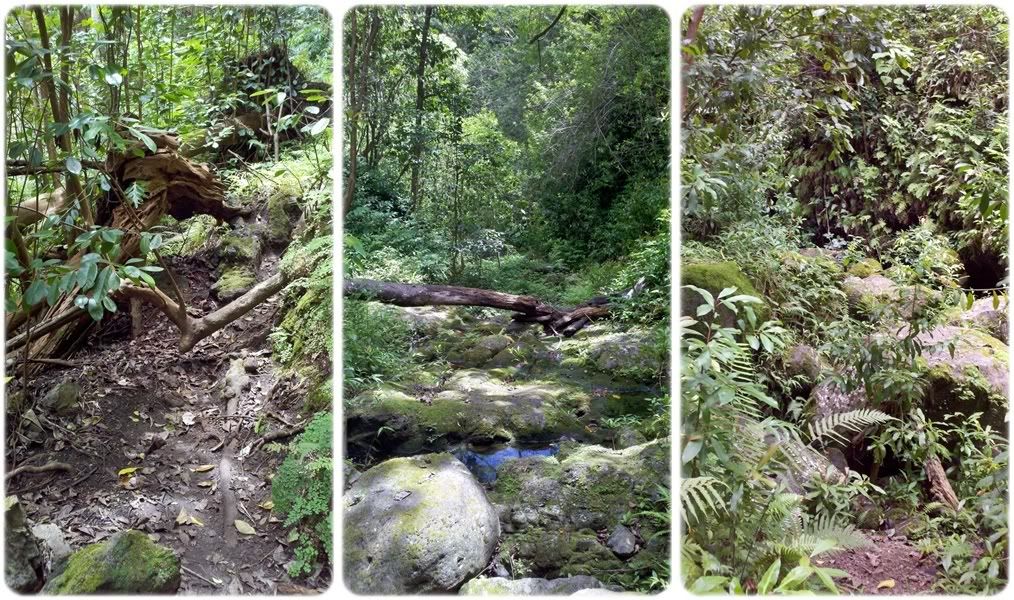 And we started to wonder if we had lost the trail.
We were having to climb over some boulders and do some hiking that I had never heard described on any of the websites.
But, no...
We were following the hiking ribbons...
We were definitely still on the trail.
But what the heck ever happened to the trail post?
This is no ridge. We are definitely in the valley.
At this point, we were about an hour and a half, two hours into the hike. I KNOW there should have been a half way mark by now. The picnic gazebo...
And we should have seen those "look outs".
But, we have been following the trail. There have been no indicators, no signs, no obvious trail switches.
click pic for larger view
Every time we felt unsure...
there was a pink ribbon.
Every time we thought, "this can't be the right trail", there was a pink ribbon.
I looked up, there was a pink ribbon.
I looked far, there was a pink ribbon.
But no post.
Thanks to
Dayle Turner
, who I found out after
reading his article
, (one of the only things I could find today on the Valley Trail) for putting many of those pink ribbons out! I think with out him, we may have been lost.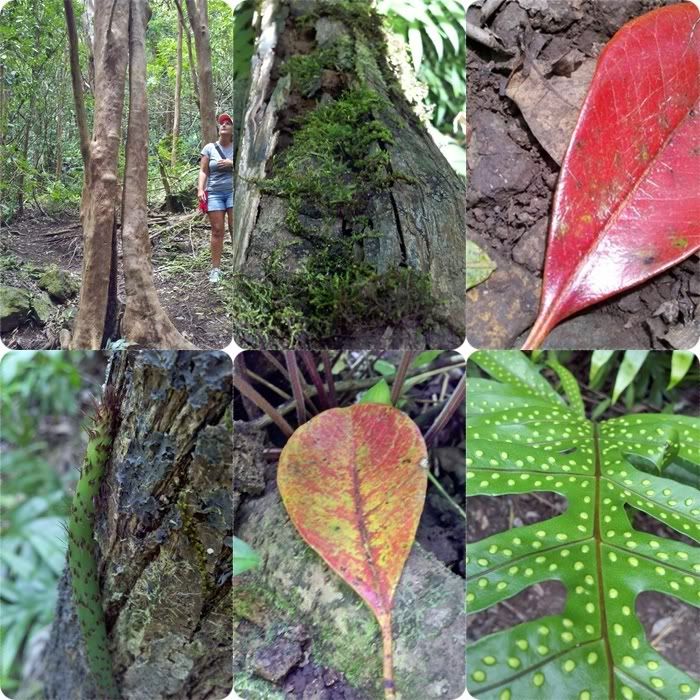 We passed another water fall on our way, which, I regretfully did not take any photos of. This valley is tiered and cut so deep. There were extremely steep climbs and we found ourselves using tiny, skinny trees (that had already, previously been used) as rope-assists.
Finally, we gave in to the realization that we were definitely, with out a doubt, on the Kuli 'ou 'ou VALLEY trail. Not the ridge trail. But we were still hopeful that we'd come out at the top somewhere.
click pic for larger view
You can't really tell from the photos, but those trails picture above are actually climbs... very steep climbs. So steep in fact, that I...the forest fairy, who can scale most any jungle obstacle to date...paused to take a picture of my worried face.
Yes.. I hike in hoops. And yes, I know how dorky and absolutely hiking gross fantastic I look. Yah!
Below, you can see Michele climbing up the steep. The picture still doesn't show it's true form...but you can almost get the jist.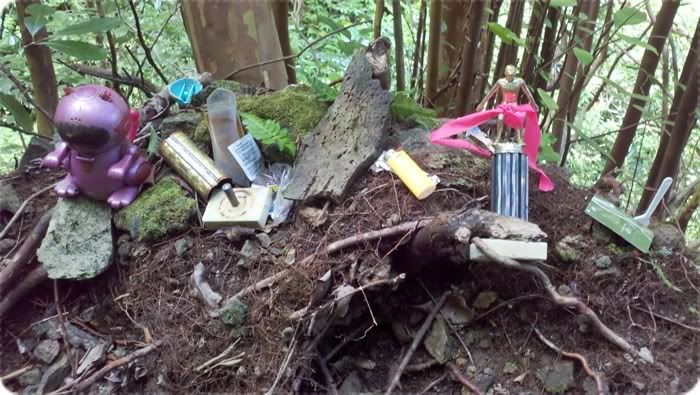 click 2 C larger view
At the top of the steep...
there was a small shrine. The pink ribbon I saw from down below was attached to a swimming trophy.
I looked in my backpack for something to add to the pile. But I came up with nada. I thought keeping my water bottle and cowboy hat (yah I brought it) was a better idea.
It was around this point that the battery in my phone/camera started beeping... it was LOW.
From this point on, the pictures are few and far between...
So I have no photo evidence of the very, very extreme climbing we did.
I'm telling you... this stuff got 100% harder after my battery started beeping.
Back at the bottom of the shrine spot...
...was this.
I would compare its size to that of a... 2 story, 2,000 square foot home.
I have been known to exaggerate a bit...but I honestly think I'm under-estimating the size of this thing.
Michele says it looked like a meteor landed.
Dude, she may be right.
We climbed around the right side of the boulder and continued on.
Of course, it was not as easy as it sounds.
There was almost nothing to grab onto or assist us. Just steep, muddy "trail".
We really had to trust our legs and our bodies and that God had equipped us with the tools we needed to do this...just within ourselves.
After about another half hour of climbing
, gripping to skinny "rope" trees, sliding down mossy boulders on our tushes... we came to the 3rd sleeping waterfall.
This put us 2 and a half hours into the jungle valley.
No "out" in sight.
Apparently, according to
this website
, the second water fall is the "end" of the trail... and there was some tree that has "stop here" written on it. I never saw that tree. And the pink ribbons took us further than I think anyone really ever goes.
This waterfall --->
was gigantic. You can see, we were standing in its dried up pool. I'd estimate the drop was about 30+ feet.
It was around this spot that we found some fairly new trash dropped around the boulders... some chinese food take out containers, chopsticks, 7-11 bags. (Boo on those litter bugs.) But...we knew that people actually did come out here...other than Mr. Turner back in 1998.
click pic for larger view
After this, we reached what we concluded was the end.
About 15 more minutes in.
I
WISH
I had photos of the cliff we were climbing up. We were literally
hanging
onto skinny trees and staring
straight up
. At the
final pink tape
, I clung to the cliff... and with nothing other than... well,
nowhere to go.
.. we decided it was time to turn around. We'd reached the end.
Slowly we made our way back through the valley trails.. this time following the dried up river (because, let's face it.. this was a river at some point) to bypass some of the more extreme climbs we'd made.
<--- This is a photo of the river bed, now covered with moss and ferns and trees.
You can see, if you look very closely, the pink tape that I was following. It's in the center-ish of the photo.
Thank GOD
for my wonderful vision!
The entire way back
, Michele and I tried to figure out where we went wrong. Obviously we had. We never saw ocean views. We never saw a gazebo. We never hiked on a ridge. We never saw the post... telling us where to go. We never even saw the "merge" trail that I'd read about...that hooks the valley up to the ridge. Nothing.
But we followed the trail.
We followed the tapes. There were no signs.
What happened?
When we'd finally made it to the more "established" trail... we breathed sighs of relief.
And as we neared the end... I saw something in the trees...
But there it was. The sign post.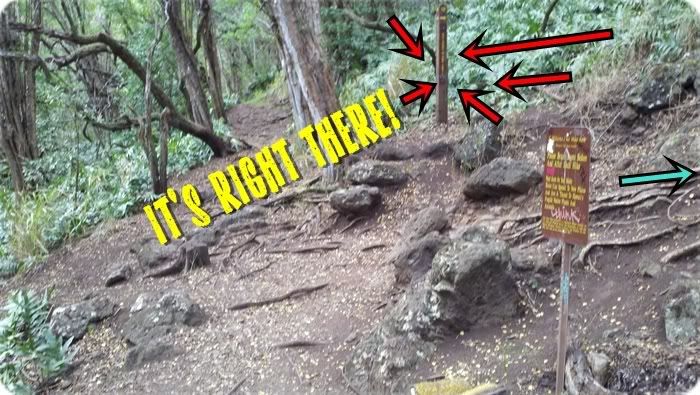 We were supposed to follow that blue arrow.
Stoooopid distracting, blinding Boot Brush!
We emerged from trail head, just 6 minutes short of a 5 hour trip.
But also amazed and proud. We had both just been somewhere we'd never dreamed of. And we'd conquered it!
*So, we've decided that we're going back to do the ridge hike...
now that we know where the stupid sign post is. =/
If anyone knows the history of this valley, please, please
let me know! I cannot find anything on it. Apparently,
only a handful of locals really do this hike. (Which makes
my hiking partner and I much more bad@ss, I think.)
I would comment further on how amazing I think we did..
but this is already the longest blog ever! ;)